Hair metal fantasy Cymbeline in McLaren Park
A review of San Francisco Shakespeare Festival's 2023 Free Shakespeare in the Park production of Cymbeline
by AK Krajewska
Did you know that Cymbeline is not a girl's name? Yeah, its a guy's name, as I found out while reading the Wikipedia entry for Shakespeare's Cymbeline in the cab on the way to McLaren Park on Labor Day to see the free performance. I mention this not to educate you about old-timey names or my ignorance thereof, but to illustrate how much I knew about Cymbeline going into the performance.
Which is to say, I knew it was a Shakespeare play, and not one of the super-famous ones, and I knew that the posters for it looked like a hair metal fantasy movie from the 80s, and that it was free. I'd seen that poster every time I went to get burritos at my local taqueria, and I thought, whatever this is, it's gonna be weird.
That is not my normal experience with Shakespeare performances, and I bet it's not most people's, either. Not most people who make a habit of seeing Shakespeare plays, anyway. When I see a film adaptation or go to a live performance, it's usually a play I already know. Things like following the plot or knowing who the characters are is not normally an issue when it's say, Macbeth or A Midsummer Night's Dream.
I had no idea what I was in for with Cymbeline, and as the play started with a long(ish) prologue, I was a little worried I might not be able to follow the action, never mind appreciate the poetry. So for the first time, I got to experience what it must be like for people who aren't familiar with the plays to see them. And you know what? It made sense and I could keep track of the people and what they were scheming about even when the same actor played multiple roles.
Shakespeare singalong
I love Shakespeare in the Park as a thing in general. You can eat snacks, bring your dog, zone out, lie in the grass, and let yourself pay as much or as little attention as you want, all while feeling fancy as heck, thinking this is probably how audiences in Shakespeare's time experienced it. Honestly, I have no idea if they really did, but it's fun to imagine it was so.
I like the rowdiness that Shakespeare in the Park brings out. In a theater, people are often kind of reserved like it's a church, especially if it's one of the tragedies (even though one of the funniest dirty bits of comedy is in Macbeth).
SF Shakes (aka the San Francisco Shakespeare Festival) tapped into that rowdy-loopy potential energy of an outdoor crowd by inviting us to sing along, right at the beginning. We're the chorus to the Greek chorus and we sing out
"Woe, woe, woooooooe"
while the electric keyboard plays a piece that feels like it could be right out of Willow or Highlander II. I felt a little weird about it at first, but it had the cool effect of loosening up the audience. We cheered when things went well for the characters. Booed when they did something stupid or mean. Talked back to them on stage. It's not Rocky Horror level talk-back, nor is the singalong sea shanty level singalong, but that's the vibe.
This is probably a good time to mention that Eiko Yamamoto (Musician #2, Mother, Arviragus) and Brian Herndon (Musician #1) who did most (maybe all?) of the musical numbers were particularly good. I wan't expecting so much music and definitely not so much electric keyboard, but I'm really happy it happened.
A little bit about the story
Cymbeline is the king and the titular character, but the story is much more about his kids than about him. Centrally, we have the love story between his daughter Imogen and her beloved, Posthumus Leonatus (As an aside, what the hell kind of name is Posthumus? I thought for a moment it was going to be some kind of ghost story.) There are also her two brothers, whose names I kept forgetting because they were kidnapped as children and raised under different names, which is what they are referred to as through most of the play. And there's an oddly important subplot about paying taxes (tribute) to the Roman emperor.
The story starts with beats you'd recognize from a tragedy: Imogen and Posthumus secretly married, Posthumus exiled, evil stepmother/queen procuring poison, Posthumus hatching an idiotic plan to prove his love's faithfulness by having his friend go and try to seduce her, then asking his servant to murder her(!) when his friend (more like frenemy) produces evidence he did seduce her (even though he totally didn't because we saw his knavish trickery right there on stage).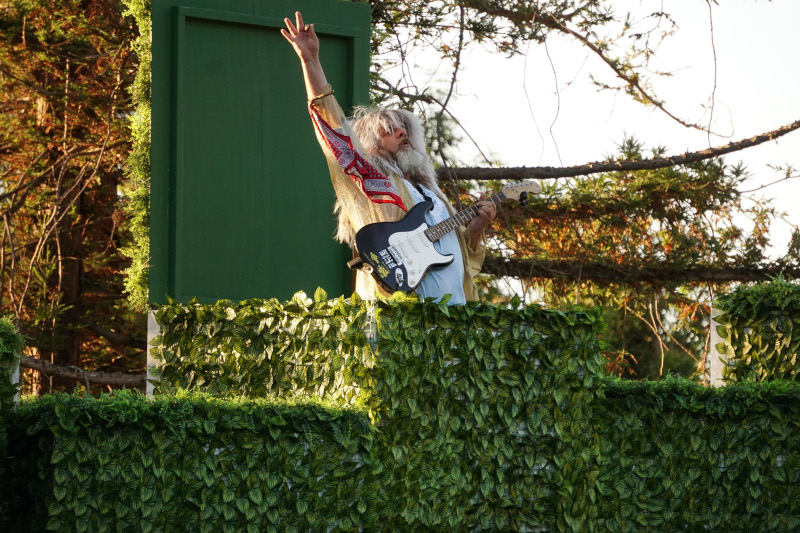 But then it goes off the rails. There's a duel that ends with a beheading played for laughs. There's a war with Rome that the Britons unexpectedly win. And then there's the dream sequence with rock and roll Jupiter and a squawking eagle.
When I say rock and roll Jupiter, I mean the actor playing the god Jupiter is holding an electric guitar (or perhaps bass) which I think he strums. Look, it's a dream sequence, so it can be weird, and it probably should be weird, but even in this rather daring production, it was a surprise. The actors were all 100% committed to it, which is important when shit gets this bizarre. As I understood the dream sequence, and I admit I did lose the plot a bit here, Posthumus' dead parents appeared in his dream while he was in prison, sang an extremely heartfelt prayer to the god Jupiter who sent an eagle and gave some blessings, and so next thing you know, orders come freeing Posthumus from prison. Later, all the blessings that Jupiter gave out come to be and we get a happy ending. Is this a Deus ex Machina? It was still somehow quite satisfying nonetheless.
Not to sound like a philistine who only likes the popular stuff, but I think Cymbeline is not that good as Shakespeare's plays go. There are good reasons it doesn't get performed as much as say, The Tempest. And, not to like, criticize the Bard, but it should have been called Imogen and Posthumus, though then Posthumus would have needed a better name and it's historical, so you know, never mind, I can see why it's called Cymbeline.
Queer subtext, queer text
The program says that this version of Cymbeline depicts Posthumus as a trans man who recently came out. I don't think I would have picked up on that if I hadn't read it in the program. Like, I'm really happy to go with it, but if it was important to the way this performance told the story, it should have been somehow made more obvious. There is already so much cross-dressing, dissembling and role-swapping in Shakespeare that queer subtext is spilling out all over the place. What would it take to raise it to the level of text? I don't know, but this performance didn't quite.
When and where to see it and some practicalities
The next two performances are in San Francisco at the Jerry Garcia Amphitheater in McLaren Park this weekend, Saturday, September 9 and Sunday, September 10, both at 2 pm. See details about these and other performances, the venue and transportation on the SF Shakes website. Also in case the name Free Shakespeare in the Park doesn't give it away, it's free.
The sound is amplified and it's really loud. If you wear earplugs in movie theaters, you're going to want to wear them to this performance. On the other hand if you have difficulty hearing the mumbly dialogue in a lot of movies, you'll probably be fine here.
Parking is limited (a nice way of saying parking sucks) so take the bus or a cab if you at all can. There was plenty of disabled parking, though, so if you need that and have a placard you can park easily. The seating in the Jerry Garcia Amphitheater is on wood benches with backs, so you don't necessarily need to bring a blanket or chair to sit on.
About the images
The images in this post and their descriptions are courtesy of the San Francisco Shakespeare Festival.
The header image shows the performers, left to right, Eiko Yamamoto as Musician #2, Catherine Luedtke* as the Queen, Nathaniel Andalis* as Cloten, Ron Chapman* as Cymbeline, Brian Herndon* as Musician #1, and Mayou Roffé as Caius Lucius in San Francisco Shakespeare Festival's 2023 Free Shakespeare in the Park production of Cymbeline. (*Member Actors' Equity Association / Photo: Neal Ormond)
The middle image shows William Rogue as Jupiter in San Francisco Shakespeare Festival's 2023 Free Shakespeare in the Park production of Cymbeline. (Photo: Neal Ormond)